Getting the big-screen movie experience at home really requires a projector shining a movie on a screen, just like in the theaters. But most people don't want to watch TV or movies in the dark, which until now is what you had to do to really enjoy your projector.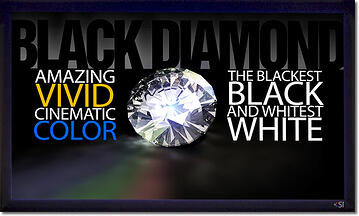 Now Screen Innovations, a leader in home theater screen technology, has invented a new screen that lets you watch your projector on a huge screen without stumbling in the dark.
Screen innovation's proprietary multi-layer invention rejects light around the screen, while reflecting the image from the projector back to your favorite seats, so you can still read a book, or see the remote while you watch a movie the way it was meant to be seen, big and bright, with wonderful color and shadow detail, sharpness and excellent blacks.
Another problem with projectors and screens is that the light that is sent to the screen by the projector, reflects off the screen into the room and then is reflected back to the screen, washing out the picture. Black Diamond eliminates this problem as well because all of the light from the screen image is only reflected back at the viewer, so no secondary image-diluting light makes its way back to the screen, giving you an even better picture
Also, if you are a fan of watching movies without the black bars, you can order a 2.40 wide screen, zoom out to it's intended size and really immerse yourself in the film. And when you go back to watching 16 x 9 TV on the same screen, the Screen Innovations Black Diamond screen "self-masks", giving you blackness on the sides of the screen where the image ends.
We currently have the Black Diamond II 1.4 gain 127" 2.40 aspect ratio screen on display with a JVC DILA projector at Audio Video Today. We welcome you to come by for a demonstration of 1.78:1 (16x9) or 2.40:1 images and you will be amazed.