I'm a day late in posting this as it has been a hectic two days since the show started. I would say attendance is down, but manufacturer participation is excellent with many exciting new products and promise of many great things to come.

My My favorite new discovery so far is from a small company named Smyth Research (www.smyth-research.com). Mike and Stephen Smyth, two talented and brilliant brothers, (Stephen is the creative genius, Mike is the nuts-and-bolts man), have come up with one of the most exciting audiophile products I have ever experienced. They call their invention the Realiser, and this is a good description, as this setup realizes some of the best high end audio sound I have ever heard, and no-less from headphones!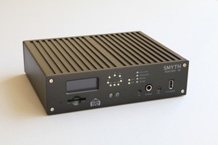 The system, called the Realiser A8, for 8 channels of surround sound audio, reproduces an actual three dimensional surround sound experience from only two channels. the setup is comprised of an equalizer/amplifier of sorts with a pair of high quality Stax 202 heaphones and a "tracker" system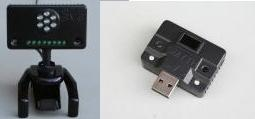 that maintains the sound you hear as coming from the same direction even when you move your head, freeing your mind from the in-your-head sensation that has always plagued headphones. But there is much more to the story than just image stabilization. In order to fully benefit from the experience, the system is equalized to your head and ears. A set of headphone/microphones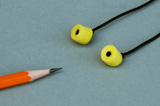 that fit in your ear canals are used to measure the acoustics you wish to reproduce, using your head and ears as part of the measuring paraphernalia, thereby creating a sound reproduction that is truly customized to you and your system. According to Stephen, the system will work with any high quality pair of headphones, for instance, Sennheiser 800's, but in order to ensure a quality experience, they encourage the use of the Stax headphones that they currently bundle with the system because they know and trust them. (I'm looking forward to experimenting with other fine headphones.) I want to make it clear that the system is much more than just surround sound, as it reproduces the magic of ultra-high end two channel music as well. The soundstage is in front of you with the ambiance of the room and system around you. And when it's time for a surround sound movie, the bullets will be wizzing by your head, left and right, up and down, just as with the best movie sound setups.
You will not believe me when I tell you this, so you must experience it, but I must tell you, you will not think you are listening to headphones. If you did not know better you would think you were sitting in a sound room listening to the best sound system, surround or two channel, you have ever heard. It's true, but you must hear it to believe it.
I first met Stephen several years ago at CES when they had plans of selling the technology to the highest bidder, who they assumed would license the technology for use in any number of products. But alas, there is so little vision among our industry giants that no one has had the forsight or fortitude to take them up on the opportunity. So, the Smyth's have taken matters into their own hands and have started limited worldwide distribution of their awesome invention themselves.
I am looking into making this incredible experience available to you, my valued friends and clients, so stay tuned for more info.